At Torii, we are focused on developing thoughtful artificial intelligence experiences within your daily work that provide real value. These are the moments of magic that eliminate busy work, letting you focus on what truly matters, all while reducing costs and risks.
Note: New AI Features Release
Torii just released a major update to our AI capabilities. Check out our Master Class Series to learn more.
Torii's Artificial Intelligence Features
AI Contract Ingestion: Removing Busywork and Improving Accuracy
Your contract data is the bedrock of your SaaS insights. Terms, costs, renewal dates, all this critical info is easier than ever to centralize within Torii. Use our AI Contract Ingestion tool to improve accuracy and save time, all while improving your SaaS visibility.
We're merging precision with ease, here's how:
Simplified Uploads: Users merely upload their contract PDFs to Torii's dedicated portal. From there, our AI seamlessly extracts pivotal details like Supplier/Vendor, Contract Value, Start and End Dates, ensuring each detail is captured with utmost accuracy.
Comprehensive Data Extraction: Beyond just the basics, our AI dives deep, capturing a wealth of information from each contract. This ensures that every nuance, from payment terms to licensing details, is documented, providing a holistic view of every contract within the platform.
Torii AI Assistant (Ask Torii)
Torii now provides answers to your SaaS queries via a Slackbot. Now, insights are just a slash command away. The assistant can answer questions about users, license counts, contract details, application statuses, and more.
Your daily IT management just got smarter. Here's how:
Instant Answers: No need to toggle between databases or sift through documents. Ask Torii's AI Assistant your pressing questions and get instant, accurate answers, right within Slack.
Permission-Sensitive: The AI assistant provides answers based on the user permissions associated with the asker, keeping your data and insight secure.
Focus on What Matters: By minimizing the time spent on repetitive queries, the AI Assistant enables you to allocate more time and attention to strategic initiatives and complex problem-solving.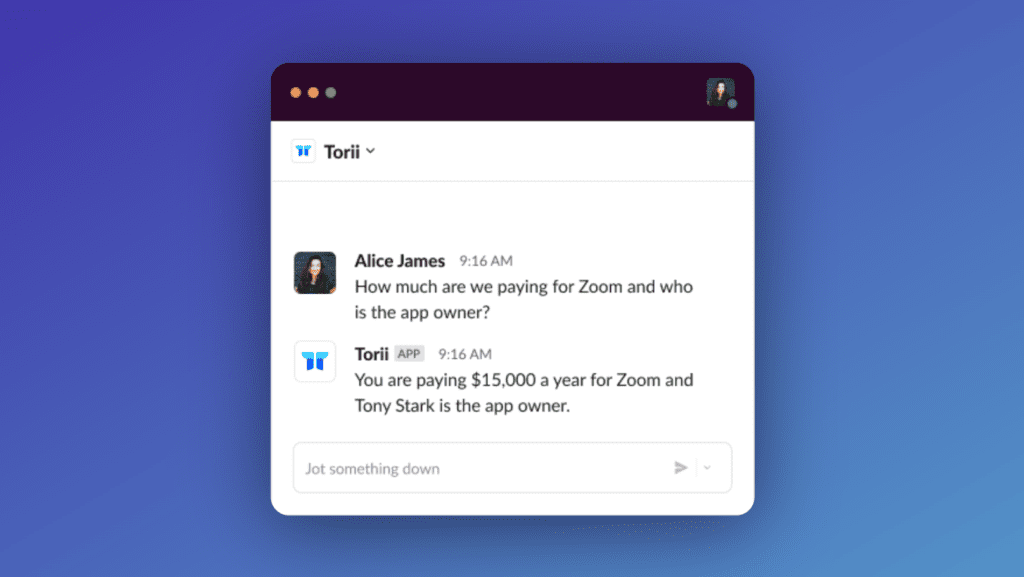 App Identifier and Auto-fill for Custom App Details
Sick of staring at blank fields? With Torii's Magic Auto-fill, you'll get auto-generated app details when updating your custom applications within Torii. We'll auto-add the category, description, and website so you can add more apps in less time.
Make your SaaS inventory management effortless. Here's how:
Automated Detailing: Simply input the app name and let Torii take care of populating all essential details like website and description. No more manual data entry!
Accuracy Ensured: Automation reduces the risk of human error, ensuring your SaaS inventory is consistently accurate.
Efficiency Boost: This feature significantly cuts down the time you'd spend on manual entries, allowing you to focus on more impactful tasks.
Cover Your SaaS With Artificial Intelligence
IT automation is ever-evolving. As AI-powered tools like Torii emerge, they provide a more cohesive and intuitive way to automate your toughest tasks so you get consistent results.
But this is also about transforming your relationship with SaaS. As you harness the capabilities of AI, you stop reacting to the demands of today; and proactively shape your work going forward.
Ready to cut costs, reduce risk, and drive consistent outcomes? Request a free trial of Torii to see for yourself.