At Torii, we are focused on developing thoughtful artificial intelligence experiences within your daily work that provide real value. These are the moments of magic that eliminate busy work, letting you focus on what truly matters, all while reducing costs and risks.
Note: New AI Features Release
Torii just released a major update to our AI capabilities. Check out our Master Class Series to learn more.
Torii's Artificial Intelligence Features
Never Miss an Auto-Renewal
If you haven't missed an auto-renewal clause for a SaaS app, then you're probably still in orientation.
The fact is, SaaS contracts are hard enough to track down, much less manager—add to that the trap-door of auto-renewals, and you're looking at an uphill battle. Luckily, Torii's latest feature, Never Miss an Auto-Renewal, automates away all that stress. Every step of the contract lifecycle is improved through a powerful combination of automation and artificial intelligence so you can focus on optimizing the application itself.
This exciting feature utilizes AI-powered intelligent scanning to parse through contract language and extract all the crucial dates and details. You can then use those dates and details to seamlessly integrate notification alerts into your contract workflow to ensure no auto-renewal deadline is missed. This preemptive approach guarantees that users are well-informed and in control of their renewal decisions, supported by a user-friendly interface that showcases renewal statuses at a glance.
Automated Alerts: Stay informed with automated notifications ahead of cancellation deadlines.
AI-Powered Detection: Torii's AI accurately identifies auto-renewal clauses, reducing manual effort.
Transparent Management: Gain visibility into contract renewal terms with clear, accessible data fields.
Customizable Notifications: Set up personalized alerts that fit your organizational workflow.
Works with Your Contracts: Whether it's monthly or multi-year, the AI will pull out the critical data.
With "Never Miss an Auto-Renewal," Torii empowers organizations to take control of their contract renewals, eliminate stress, and save themself uncomfortable conversations with finance.
Map Your Apps: AI-Powered Full SaaS Visibility
Managing a sprawling SaaS ecosystem can be challenging. Torii's App Mapping feature automates the discovery and categorization of all third-party applications in your organization, giving you an organized, easily customizable view of your digital environment. For the rare cases where an app isn't automatically detected, we provide the tools to manually add it—ensuring your dashboard is as comprehensive and accurate as possible.
Torii uses advanced AI to scan your organization's SaaS applications and automatically categorize them for you. This allows you to quickly identify the tools that are most critical to your business while filtering out less relevant applications. The result is an efficient, organized view of your SaaS stack that can be customized to fit your specific needs.
How to Use This Feature
All applications identified by Torii can be found in the Review tab on the Applications page. If you can't find a particular app, it's most likely because it was categorized as non-business-related or had a naming convention that didn't align with our database. When this is the case, you can make adjustments within the Refine tab. Here, you can add or remove apps, making the list perfectly tailored to your organizational requirements.
Automated Discovery: Eliminate manual tracking by letting Torii do the heavy lifting in identifying all your third-party applications.
Less Noise on Your Terms: Let Torii filter your non-business apps so you can address them on your terms. Our Discovery engine keeps your data safe and ready for you to make custom adjustments when you see fit.
High Accuracy: Benefit from Torii's cutting-edge AI that ensures only relevant business apps are displayed.
Tailored Customization: Adjust the categorizations according to your needs, whether it's to add or remove specific applications.
Wide Compatibility: Torii supports a broad range of platforms, including Google Workspace, Salesforce, and Microsoft Teams.
Instant Sync: Any changes you make are updated in real time, ensuring your dashboard is always current.
Data Integrity: Our system is designed to prioritize accuracy, even if that means not automatically displaying an app that's hard to categorize.
With Torii's App Mapping, you have a reliable, efficient way to manage your SaaS environment. It's not just about discovery; it's about giving you the control and customization that modern IT management demands.
AI Contract Ingestion: Removing Busywork and Improving Accuracy
Your contract data is the bedrock of your SaaS insights. Terms, costs, renewal dates, all this critical info is easier than ever to centralize within Torii. Use our AI Contract Ingestion tool to improve accuracy and save time, all while improving your SaaS visibility.
We're merging precision with ease, here's how:
Simplified Uploads: Users merely upload their contract PDFs to Torii's dedicated portal. From there, our AI seamlessly extracts pivotal details like Supplier/Vendor, Contract Value, Start and End Dates, ensuring each detail is captured with utmost accuracy.
Comprehensive Data Extraction: Beyond just the basics, our AI dives deep, capturing a wealth of information from each contract. This ensures that every nuance, from payment terms to licensing details, is documented, providing a holistic view of every contract within the platform.
Torii AI Assistant (Ask Torii)
Torii now provides answers to your SaaS queries via a Slackbot. Now, insights are just a slash command away. The assistant can answer questions about users, license counts, contract details, application statuses, and more.
Your daily IT management just got smarter. Here's how:
Instant Answers: No need to toggle between databases or sift through documents. Ask Torii's AI Assistant your pressing questions and get instant, accurate answers, right within Slack.
Permission-Sensitive: The AI assistant provides answers based on the user permissions associated with the asker, keeping your data and insight secure.
Focus on What Matters: By minimizing the time spent on repetitive queries, the AI Assistant enables you to allocate more time and attention to strategic initiatives and complex problem-solving.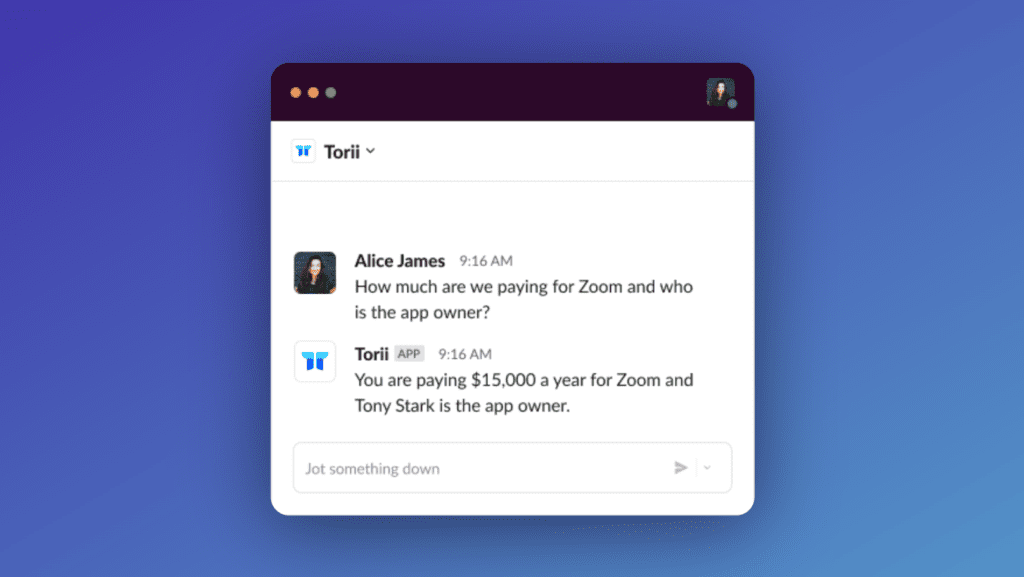 App Identifier and Auto-fill for Custom App Details
Sick of staring at blank fields? With Torii's Magic Auto-fill, you'll get auto-generated app details when updating your custom applications within Torii. We'll auto-add the category, description, and website so you can add more apps in less time.
Make your SaaS inventory management effortless. Here's how:
Automated Detailing: Simply input the app name and let Torii take care of populating all essential details like website and description. No more manual data entry!
Accuracy Ensured: Automation reduces the risk of human error, ensuring your SaaS inventory is consistently accurate.
Efficiency Boost: This feature significantly cuts down the time you'd spend on manual entries, allowing you to focus on more impactful tasks.
Cover Your SaaS With Artificial Intelligence
IT automation is ever-evolving. As AI-powered tools like Torii emerge, they provide a more cohesive and intuitive way to automate your toughest tasks so you get consistent results.
But this is also about transforming your relationship with SaaS. As you harness the capabilities of AI, you stop reacting to the demands of today; and proactively shape your work going forward.
Ready to cut costs, reduce risk, and drive consistent outcomes? Request a free trial of Torii to see for yourself.