Simplify App Administration With Seamless Automation
Put your application busywork on autopilot. Reduce risk, cut costs, and save time. 
Automate The Application Lifecycle
Get automated notifications whenever a new app is adopted. Effortlessly engage new application owners with personalized questionnaires to gather essential SaaS information. Finally, true app oversight and control.
Streamline security evaluations and orchestrate workflows based on rich application risk profiles. Automatically manage risky app adoption and usage. Reinventing security for a connected world.
Orchestrate tailored workflows for your unique use case. Visualize every possible option with limitless branching for your multi-variant context. Complexity made elegant.

"Anywhere I go, any job I take, they're likely going to hear me say 'I need Torii' because it's part of my core observability and SaaS management practices. It would be challenging for me to work as efficiently without Torii."


"Torii's workflows are great. They allow me to automate my daily tasks and save a lot of time, not to mention helping me have a better work/life balance."
Service Desk Technician, Omnipresent

"If you have 10+ SaaS apps in your organization and are spending too much time managing them, it's definitely worth getting Torii. Torii is more than just a SaaS Management tool— it has endless opportunities.

Senior Manager of IT, Article
Consolidate Redundant Tech
Get notified about redundant apps. Harmonize your SaaS stack with automatically generated side-by-side comparisons of apps, including purpose, utilization rate, expenses, and more. Technology management, refined.
Get The Alerts That Matter
Sleep soundly with Torii as your SaaS sentinel. Get instant alerts for any situation you want. From shadow IT, app risks, upcoming contract renewals, license thresholds, and more. All signal, no noise.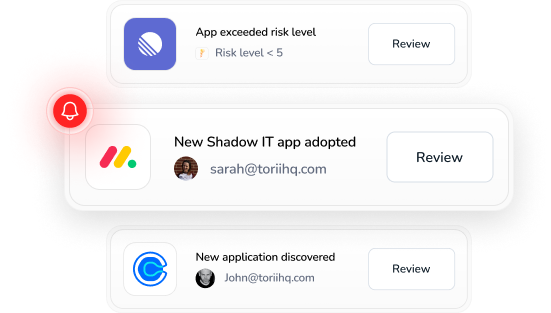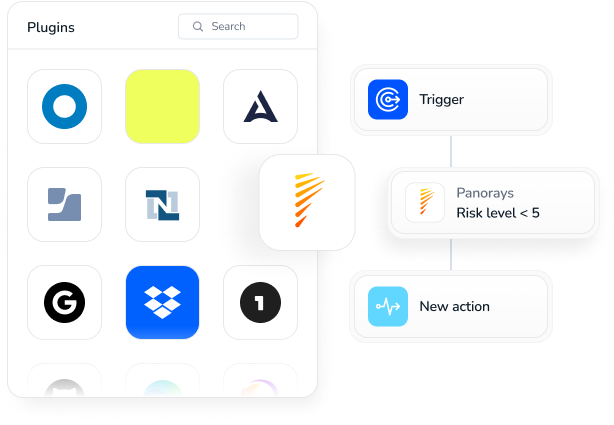 Unify Data And Take Action
Expand Torii's reach by connecting essential security, finance, and other SaaS-related systems via the Plugin Marketplace. Harness their data to uncover deep insights and craft intricate workflows. Finally, unified insights you can act on.
Discover how much time you can save.
Trusted by IT for SaaS Spend and SaaS Ops Management